Industrial Athlete
New methods in ergonomics
and digital health
The biomechanical measuring system INDUSTRIAL ATHLETE visualizes physical workload in real time and under real conditions. Frequent load types such as force, awkward posture and repetition can be identified for each body region and evaluated according to biomechanics and ergonomics criteria.
Body postures and joint forces determined using IMU sensors (XSENS) are graphically animated and assigned to the activities performed using synchronized video recordings. This provides the ability to identify hidden health risks, evaluate the preventive effectiveness of ergonomic tools or aids (e.g. exoskeletons) and derive measures to avoid high musculoskeletal loads.
With its integrated data analysis and automated reports, the INDUSTRIAL ATHLETE enables fast and meaningful load assessments and ergonomic workplace design without the need for time-consuming procedures and human resources.
This opens a highly efficient way for companies to contribute specifically to the health, performance and motivation of their employees and to be able to offer attractive, healthy jobs on a permanent basis.
Research institutes benefit from one of the most powerful and versatile measurement methods in ergonomics.

Visualize and quantify
Physical workload
Recognize health hazards
Real-time ergonomics analysis
Occupational musculoskeletal disorders (MSD) are a constant companion in working life. Our mobile ergonomic laboratory INDUSTRIAL ATHLETE helps identify the causes of illness, injury and damage directly at the workplace.
Identify exposure risks
Physical risk assessment
The employer has the obligation to carry out and document risk assessments. Using the INDUSTRIAL ATHLETE, this can be done quickly and comfortably, regardless of whether it is load handling, repetitive manual tasks, forced postures, high exertion or mixed activities.
Prevent musculoskeletal disorders
Workplace health promotion
The INDUSTRIAL ATHLETE is an impressive way of communicating good health behavior. At workshops or health days, he helps to explain back-friendly behavior, joint-preserving postures or the proper use of aids in a comprehensible way and to establish them permanently.
Biomechanics for healthy work
Portfolio
Consulting & Service
In companies that want to have risk jobs or activities examined, we carry out systematic ergonomics analyzes using the INDUSTRIAL ATHLETE directly on site. We create meaningful reports from the results and develop measures for ergonomic workplace design and behavior prevention.
System Purchase
For companies and universities with larger needs, we offer the purchase of our INDUSTRIAL ATHLETE measuring system. The package includes an Xsens Motion Capture System, our award-winning analysis and reporting software including extensive on-site training and free updates for at least two years.
Software Add-on
Institutions that already have a MoCap system (Xsens or Perception Neuron) use our analysis and reporting software as an add-on to expand their application options. Current or already recorded trials can be displayed and evaluated immediately from an ergonomic point of view.
Range of application
Corporate consulting
Workplace inspections
Ergonomics analysis
Stress-strain concept
Risk assessment
Workplace design
Behavioural prevention
Training/Workshops
Health days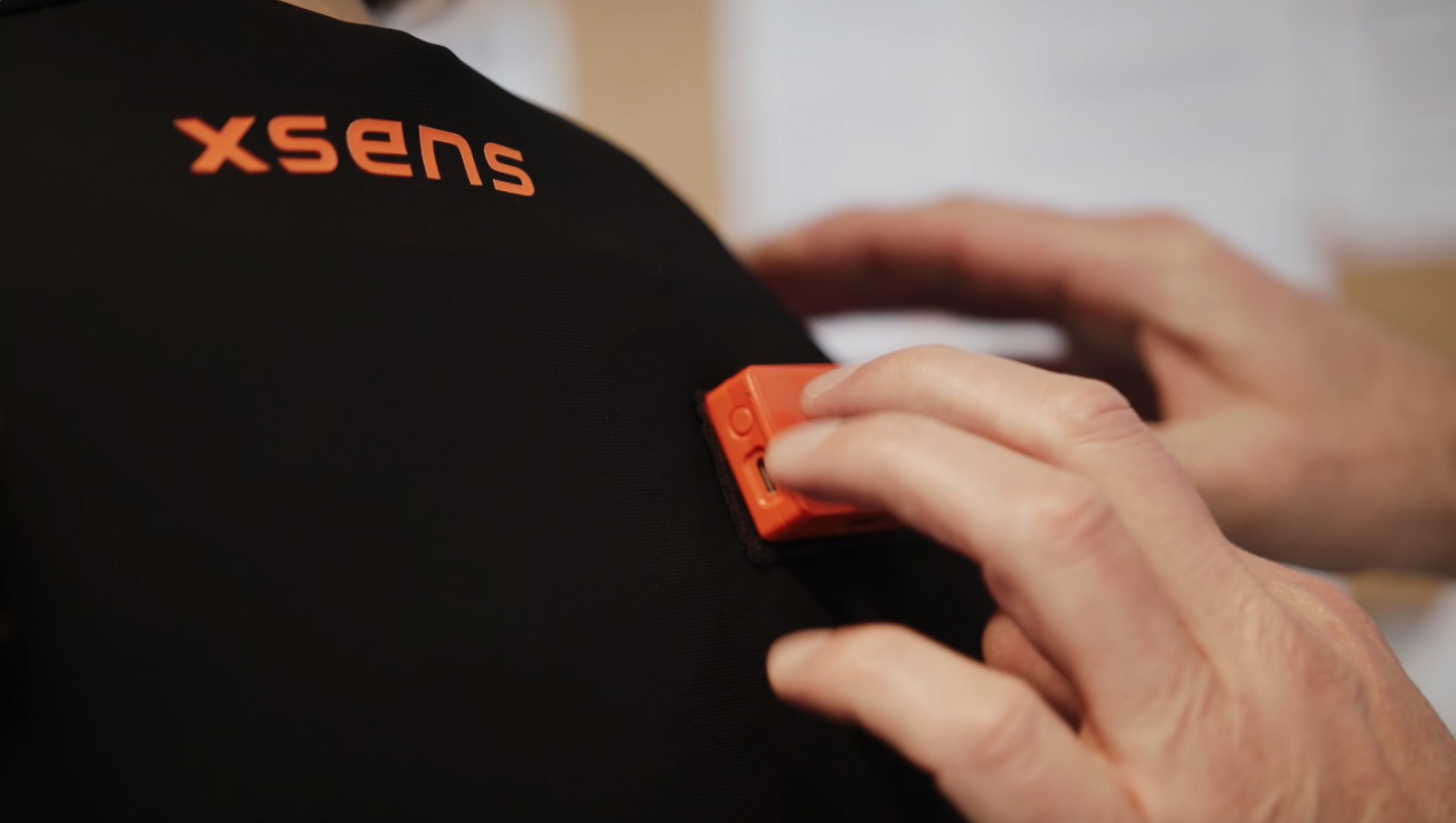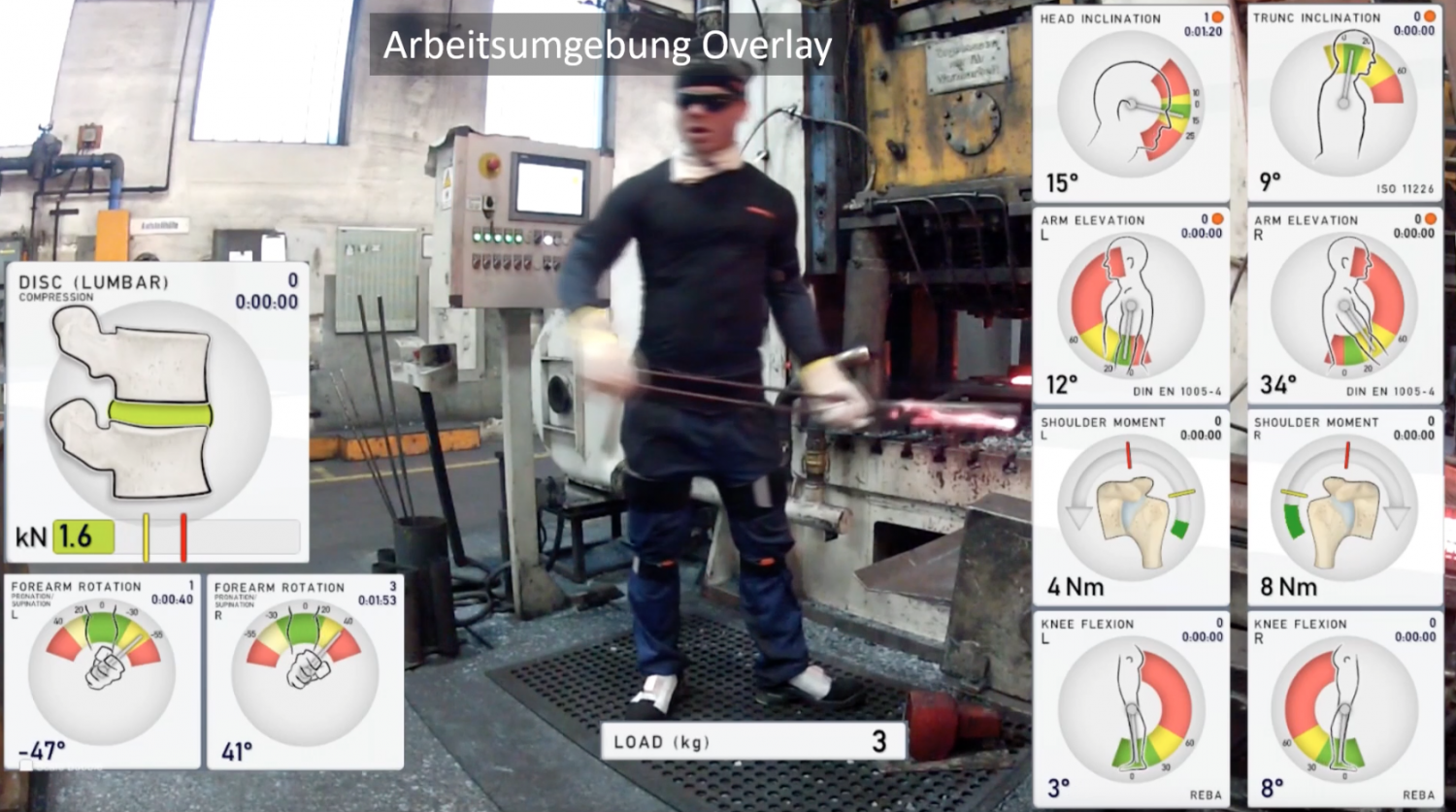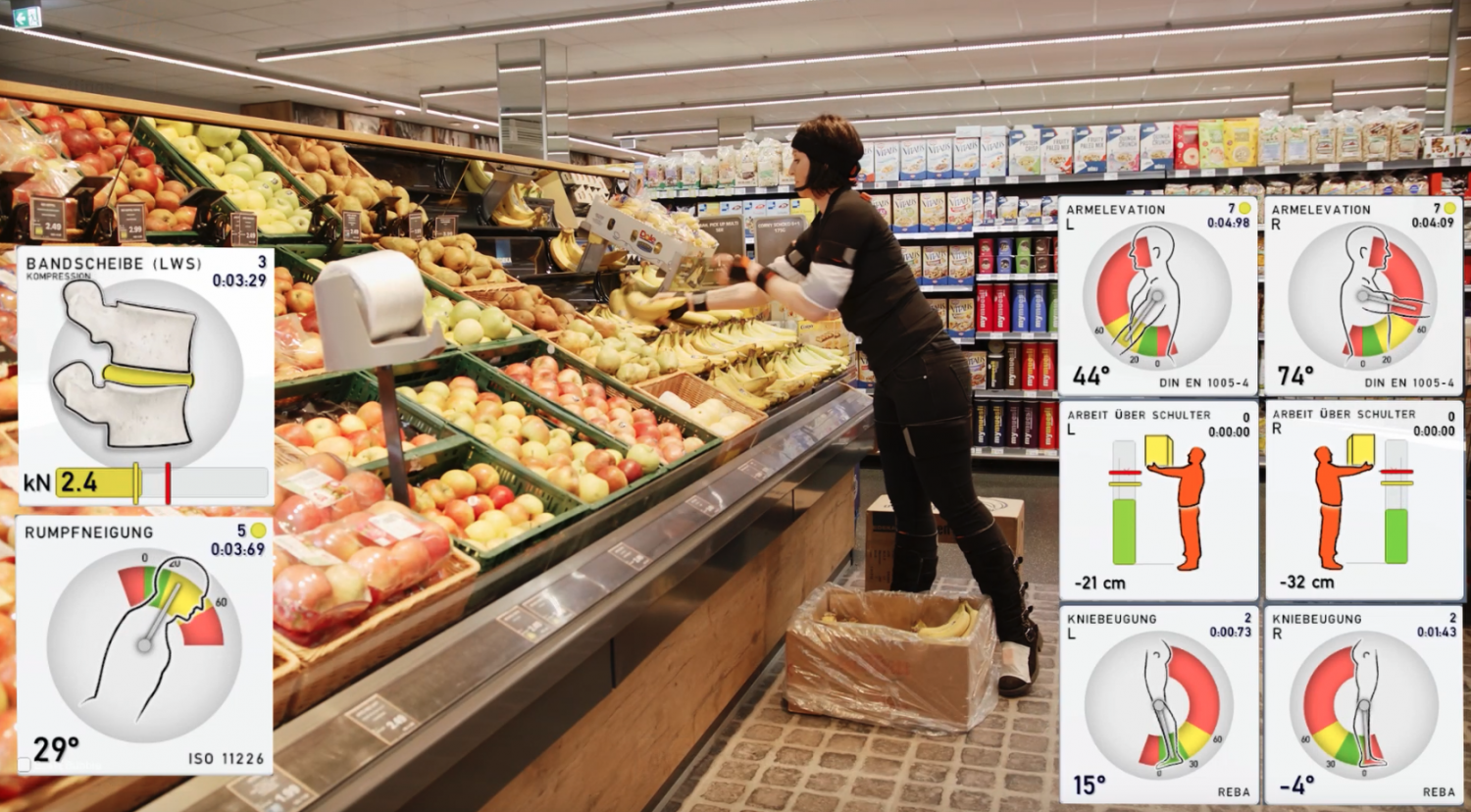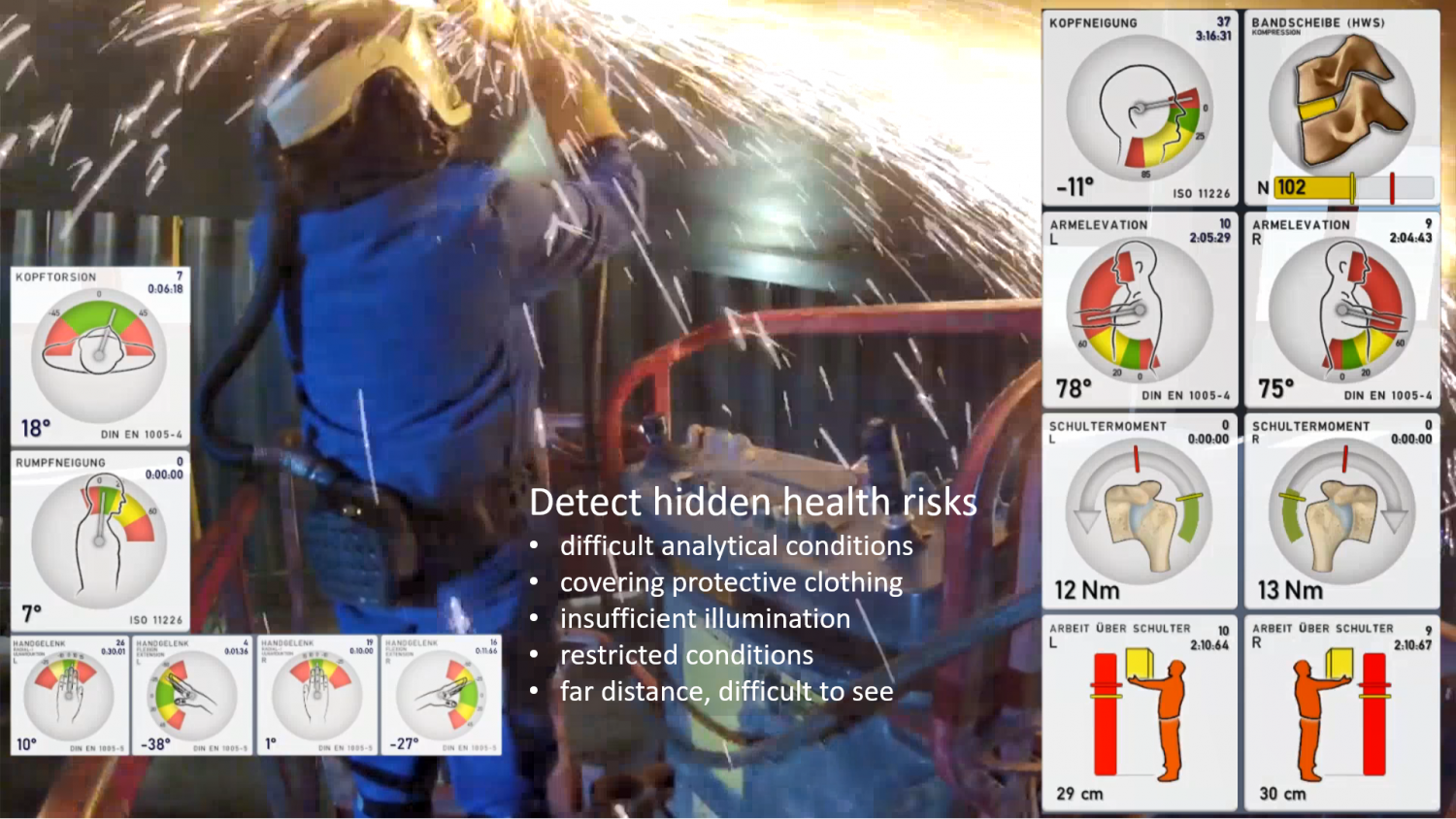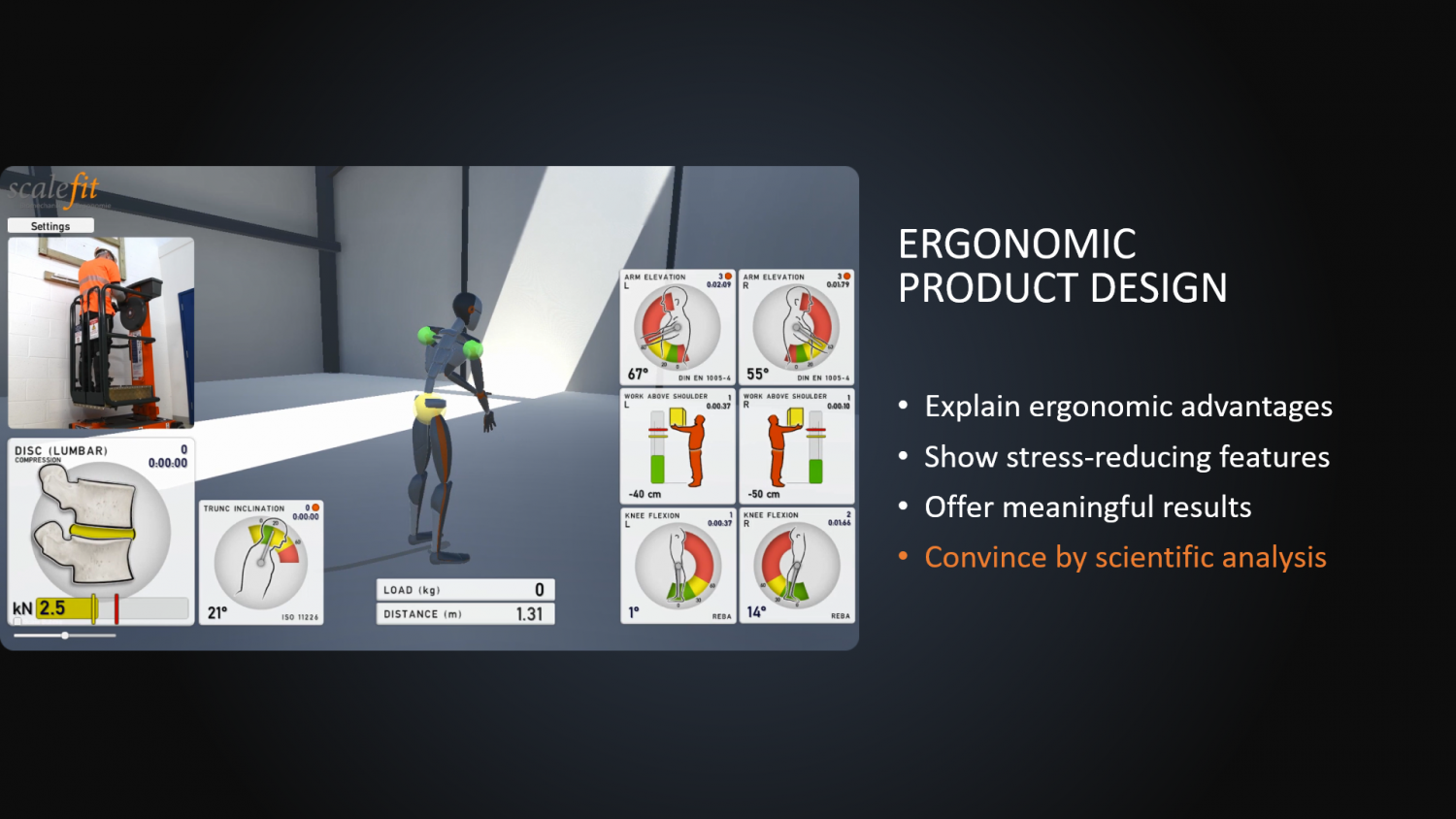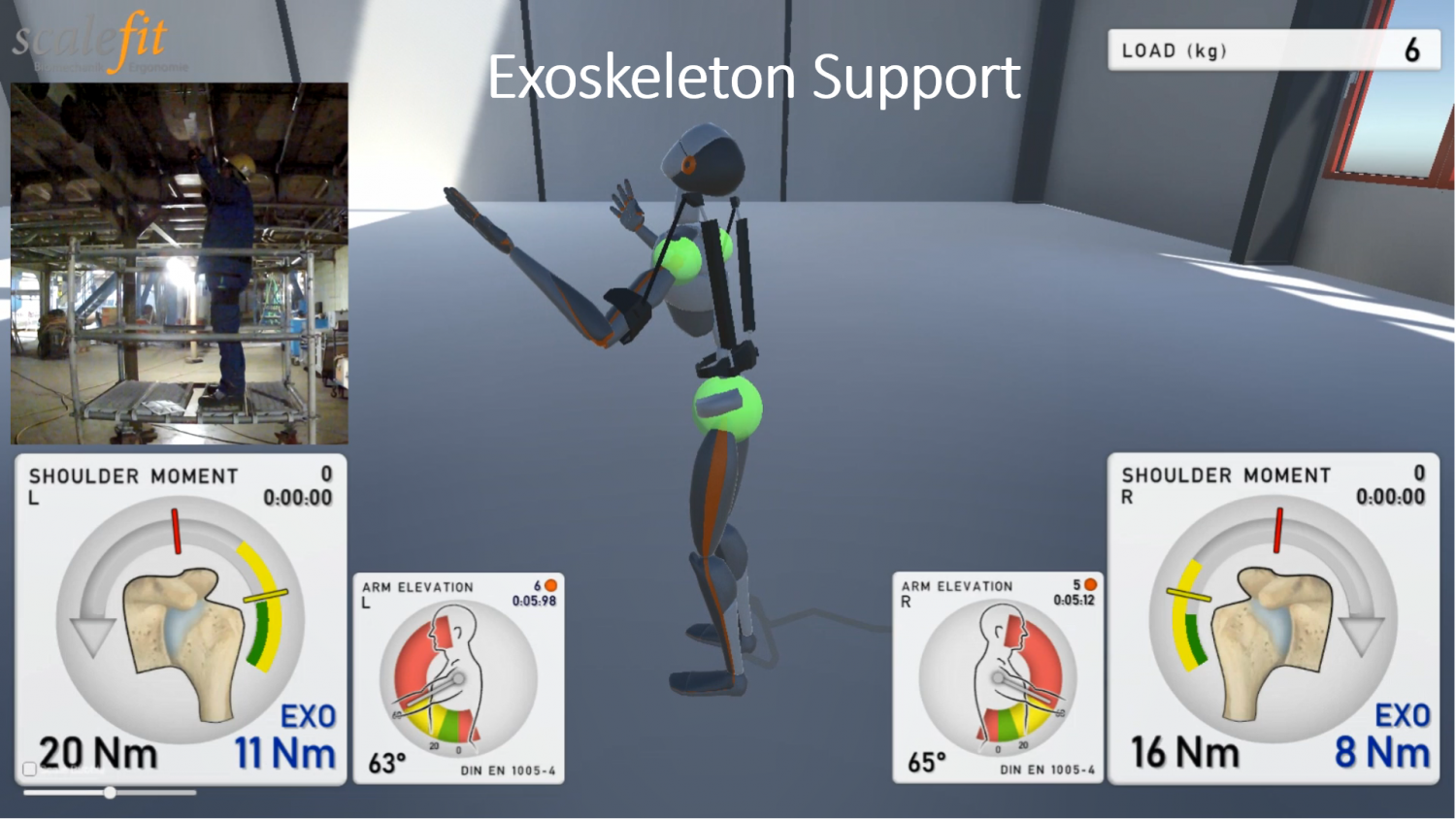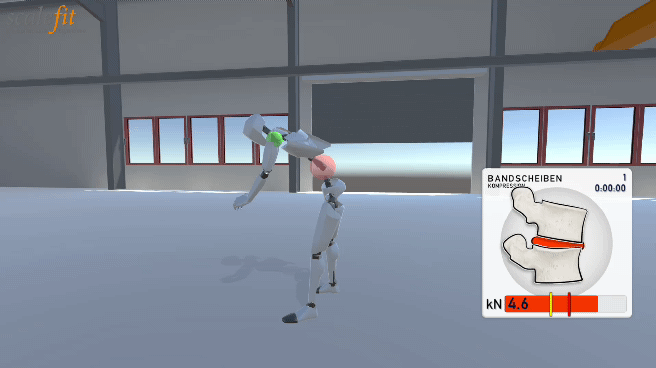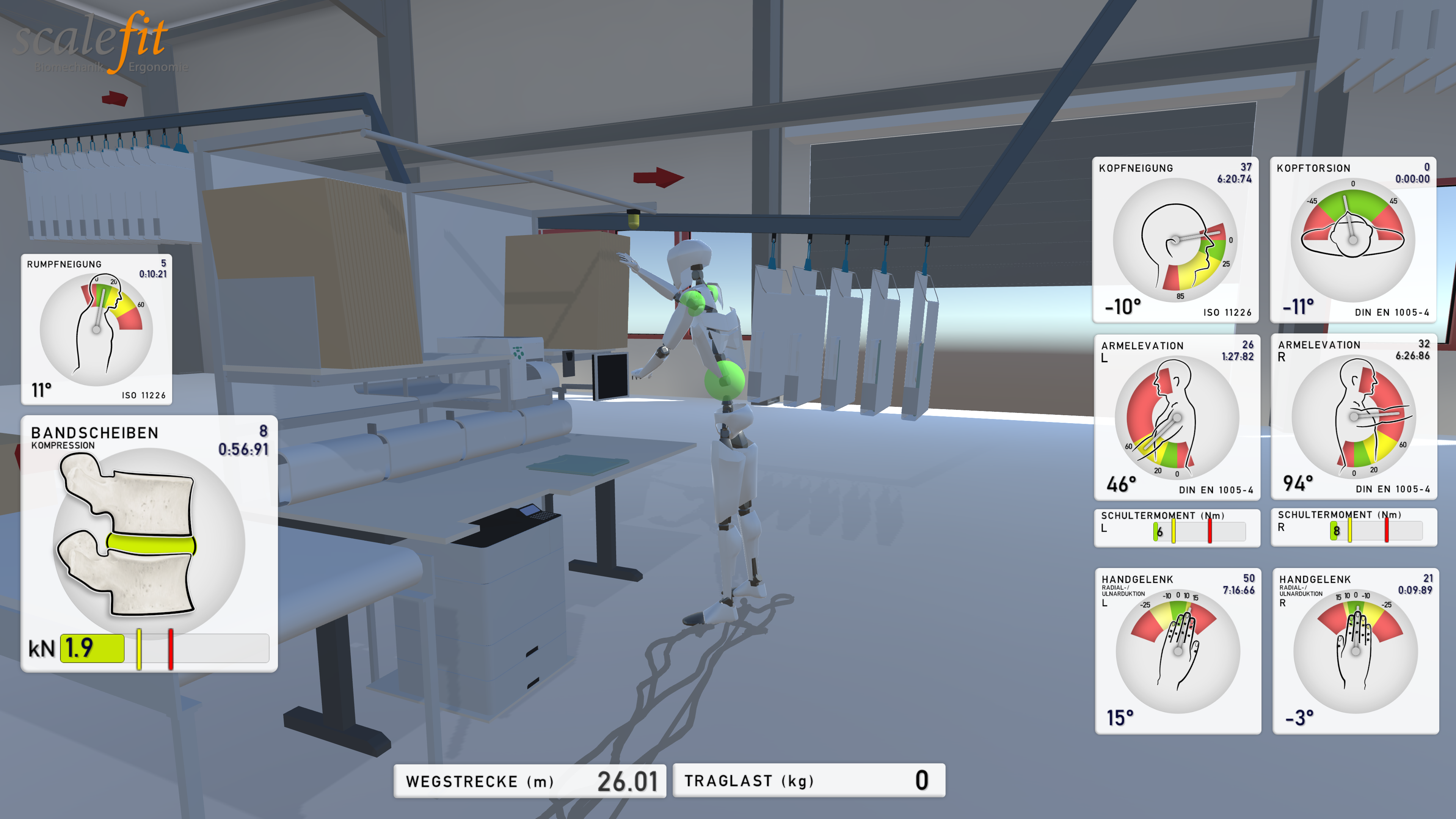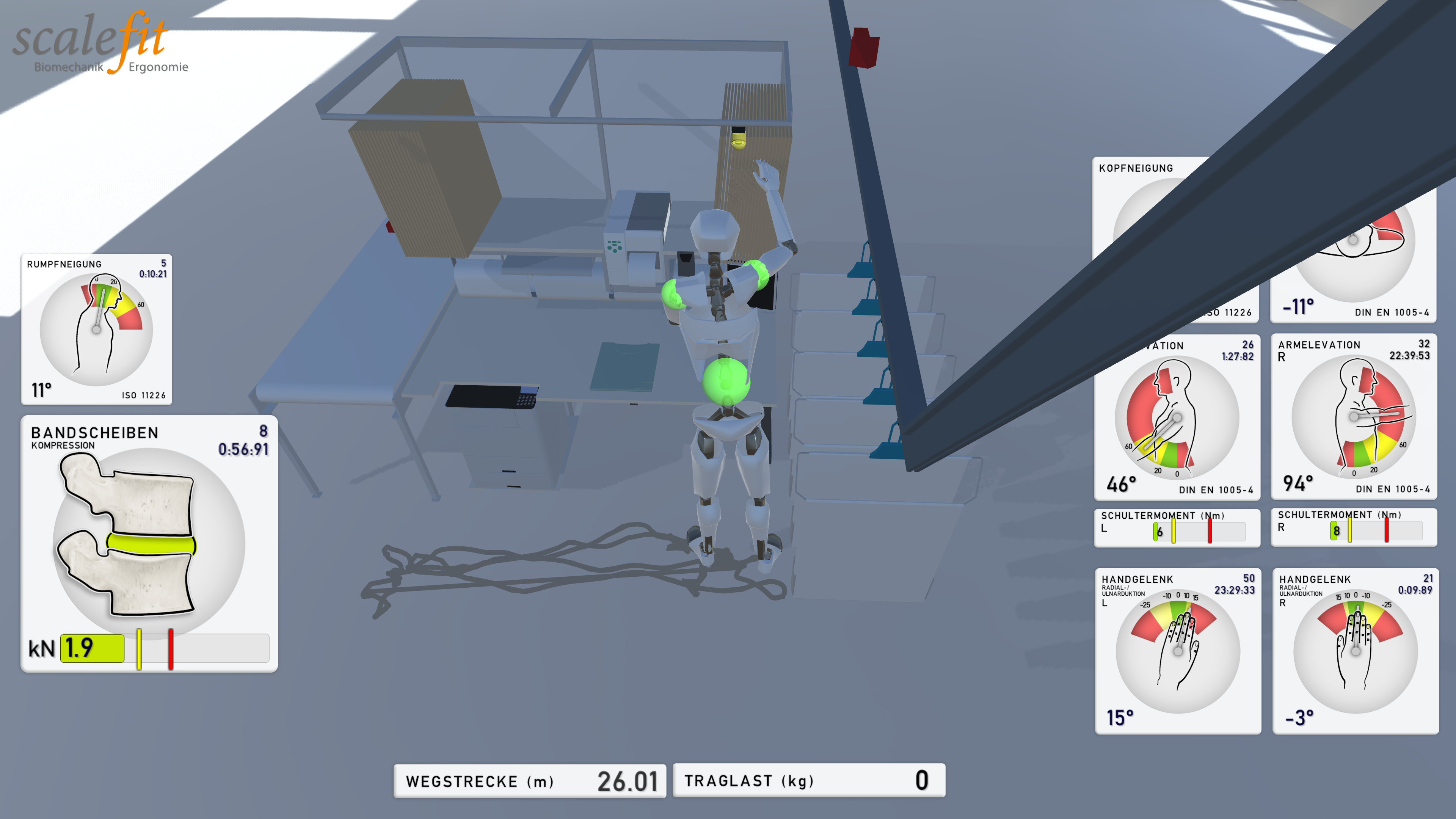 Wearable technology
Industrial Athlete
The biomechanical measuring system INDUSTRIAL ATHLETE, developed by biomechanics and software engineers, combines modern inertial sensors, biomechanical models and load weights. Portable over the workwear, the Motion Capture System enables ergonomic analysis directly at work or via VR glasses on the CAD model of your work environment. The evaluation software provides a real-time assessment of postures, movements and physical load (according to DIN, ISO, etc.) and displays them as biofeedback using a 3D avatar and animated body symbols.
The current occupational and biomechanical evaluation criteria of the German Social Accident Insurance are used (DGUV Information 208-033). On the basis of the measurement data, risk assessments can be compiled and statements made about necessary measures for ergonomic workplace design, compliance with physiological stress limits and prevention of occupational health hazards. For documentation and further processing, it is possible to export the recordings as video (Full HD), data table (csv) and analysis report.
New Standards
Analysis, assessment and (re)design
of demanding workplaces
Easy handling and minimal set-up time
Load analysis and biofeedback in real time
Optional integration of CAD workspace models
Automated hazard reports
Key indicator method: Lifting, holding, carrying
The application of the measuring sensors as well as the operation of the measuring software can be learned quickly and carried out independently by trained personnel after a short training period. The INDUSTRIAL ATHLETE is thus one of the fastest and most precise methods of analysis in the field of human science.
Applications
Workplace and ergonomics analyses (targeted or during inspections)
Physical risk assessments (according to ArbSchG §§ 5-6)
Types of load such as load manipulation, forced postures or (repetitive) manual activities
Planning and optimization of (sample) workplaces and workflows Instructions for safe and healthy work
Training and workshops on conditional and behavioral prevention
Health days and prevention projects (physical stress in everyday life and leisure)
Target Groups & Service Spectrum
The measuring system is used in the following areas:
Work-Health-Management: Practical measures on occupational safety and health
Occupational Safety: Physical risk assessment and stress-strain concept
Occupational Health: Prevention of musculoskeletal disorders and healthy workmanship
Ergonomics Consultants: Employee training on load -reduced behavior and ergonomic workplace design
Training and Education: Job-related, research-based teaching and learning in work science and health-promoting professions
Hardware
Portable IMU measuring system for kinematic full-body detection (including a handy carrying case)
Small, lightweight sensors with appropriate Velcro strap attachment
Simple, easy-to-learn handling (1 day)
Short set-up time and easy calibration (ready-to-go in 10 minutes)
Unrestricted freedom of movement through wireless data transmission (WLAN)
Wearable above or below work wear or PPE
Mobile and flexible in field and laboratory
Expandable to capture the finger movements
Autonomous power supply with up to 6 hours runtime
Recording frequency up to 120 Hz
Small file sizes for efficient database storage and remote evaluation
Easy recalibration of magnetized sensors
Replaceable fasteners and sensors
Software
Playback of the movement data as a 3D avatar
Real-time calculation of physical stress and strain:
- Joint angle of head, trunk, shoulder and hand
- Disc compression and shoulder torque
- Work above shoulder level
Parameter evaluation according to traffic light scheme and DGUV guidelines
Cumulative indication of duration and frequency in range of limited conditions
Optional integration of CAD workplace models
Individually configurable parameter boxes
Individual model adaptation to height and weight
Load-weight input via keyboard in the current program
Adjustable distribution of load between hands
Recording of the travelled distance
Parameter reset at the touch of a button
Data-, photo- and video export (Full-HD) with a mouse click
Virtual Reality (VR) and Augmented Reality (AR) (planned realization: end of 2019)
Parameter Overview
The selection, position and size of the parameter boxes is variable and can be adapted to the respective work and load-specific requirements. Up to four individual configurations can be saved as a template. The parameters are evaluated according to the traffic light scheme on the basis of the currently valid DGUV guidelines (DGUV Information 208-033).
Companies investing in the health of their employees today will benefit from increased attractiveness, improved performance and sustainable competitiveness tomorrow. We support you with state-of-the-art methods and scientific expertise.
Our Concept
Is offered to companies that want to specifically reduce musculoskeletal disorders and physical strain in the context of workplace health promotion (WHP). The focus is on the systematic assessment of working conditions (ArbSchG §§ 5-6) and an innovative and comprehensive ergonomic workplace design to increase the well-being and performance of all employees.
The basis of our analysis is the INDUSTRIAL ATHLETE measuring system. It offers the best possible support for occupational safety and health in measures to:
Ergonomic workplace design
Compliance with physiological stress limits and
Fatigue and damage-free workmanship
Our Team
Consists of biomechanics, occupational scientists and orthopedists with special expertise in stress-load analysis, the interaction of man and work equipment and the prevention of work-related musculoskeletal disorders. As part of an interdisciplinary network with many years of experience in biomechanics,
ergonomics and in the field of OSH, we accompany companies with scientific competence and state-of-the-art examination methods. Our services are characterized by high flexibility, short processing times and a good price-performance ratio.
Expertise
Dr. Frank Emrich is a scientific assistant at the Institute for Biomechanics of the German Sport University Cologne and founder of scalefit. After studying sports science, he obtained his doctor's degree in biomechanics (2000) under Prof. Dr. G.-P. Brüggemann. His expertise includes occupational biomechanics and ergonomics in research and teaching. He headed long-term industrial prevention projects as well as the widely acclaimed prosthetic study "Oskar Pistorius".
From 2014 to 2016 he worked as a research assistant at the OSH-Institute of the German Social Accident Insurance in Sankt Augustin. As part of the MEGAPHYS project, he conducted a large number of occupational scientific examinations using the CUELA measuring system.
Dr. Emrich is a member of the DIN Standards Committee on Ergonomics (DIN), the Society for Ergonomics (GfA) and the Ergonomics Competence Network (ECN), which awarded him the German Ergonomics Award "Innovation" in 2020.