Perfect balance at work

Detect HIDDEN HEALTH RISKS
Companies that want to reduce musculoskeletal disorders and physical stress in the context of their workplace health promotion (WHP), benefit from our ergonomic and biomechanical know-how.
In order to increase the well-being and performance of all employees, our focus is on the systematic evaluation of working conditions (ArbSchG §§ 5-6) and on an individual ergonomic workplace design.
Our ergonomics analysis is based on the INDUSTRIAL ATHLETE measurement system. It offers the best possible support for occupational health and safety in terms of:
Ergonomic workplace design
Compliance with

load norms and standards

Low-fatigue and pain-free work
scalefit
From science to business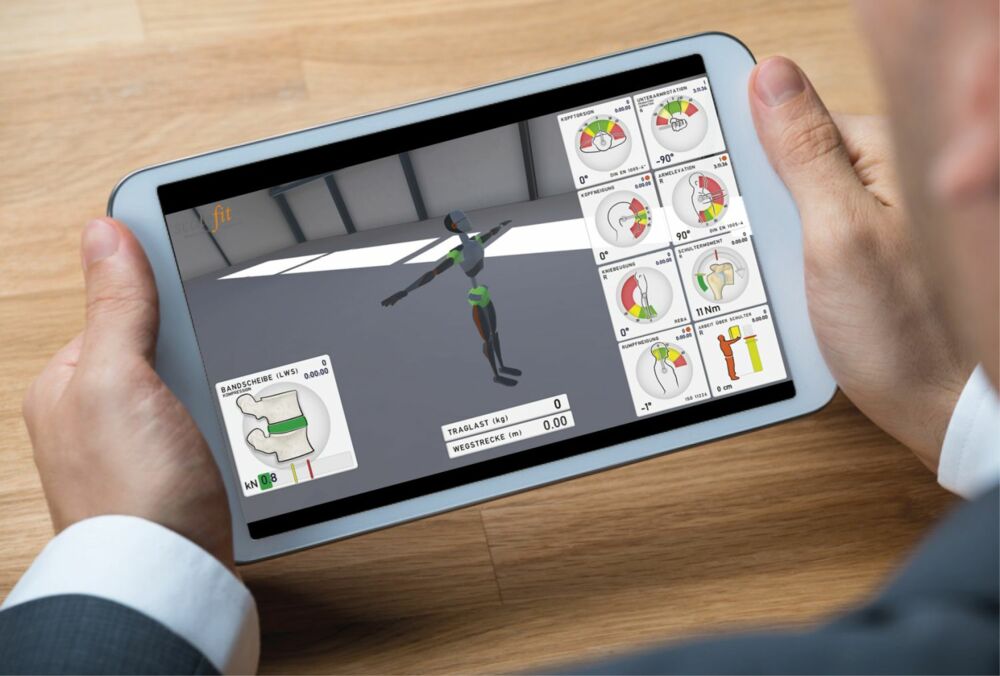 Our company has its origins in biomechanics and software engineering, with the continuous development of customer-oriented applications and tailor-made solutions. We offer integrated analysis concepts for logistics, production and service companies - supplemented by virtual reality and 3D animation.
As part of an interdisciplinary network with many years of experience in biomechanics, ergonomics and OSH, we support companies with scientific expertise and state-of-the-art analyses. Our service offers high flexibility, short processing times and a good price-performance ratio.
---
Expertise
COMPETENCE in Ergonomics
Dr. Frank Emrich is a scientific assistant at the Institute for Biomechanics of the German Sport University Cologne and founder of scalefit. After having studied sports science, he obtained his doctor's degree in biomechanics (2000) under Prof. Dr. G.-P. Brüggemann. His expertise includes occupational biomechanics and ergonomics in research and teaching. He headed long-term industrial prevention projects as well as the widely acclaimed prosthetic study "Oskar Pistorius".
From 2014 to 2016 he worked as a research assistant at the OSH-Institute of the German Social Accident Insurance in Sankt Augustin. As part of the MEGAPHYS project, he conducted a large number of occupational scientific examinations using the CUELA measuring system.
Dr. Emrich is a member of the DIN Standards Committee on Ergonomics (DIN), the Society for Ergonomics (GfA) and the Ergonomics Competence Network (ECN), which awarded him the German Ergonomics Award "Innovation" in 2020.